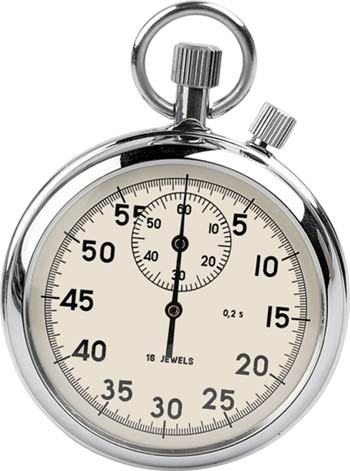 Sadly, if you're anything more than a very recent fan of Notre Dame, you have some experience when it comes to coaching searches. The rumors, the "inside sources", the numerous front page articles about how ND is no longer relevant, etc... Still, even with all our accumulated experience and knowledge about how all that matters is the end result, you can't help but get anxious the longer a coaching search stretches out. Granted, ND has only been at it publicly for two days now, so anyone freaking out at this point should be in the market for rubber sheets. But with tweets like this one suggesting the search could stretch on for another week or so, anxiety will likely be rising around the Notre Dame fan nation.

With that in mind, we decided to take a look at what the usual wait is for a program needing to replace their head coach. A tip of the cap to collegefootballpoll.com for having most of the information already at hand.

We tallied up the open job duration for all 97 head coach searches since the 2004 season and found that the average number of days to fill a vacancy is 18.2 and the median number of days is 15. These numbers are impacted a bit by the extremes at either end so here is some more context on the 10 shortest and 10 longest searches over this time frame. First, the short searches.

0 Days

- Oklahoma State:

L. Miles(1/3/05) to M. Gundy(1/3/05)




0 Days

- Wisconsin:

B. Alvarez(8/9/05) to B. Bielema(8/9/05)




0 Days

- Boise State:

D. Hawkins(12/16/05) to C. Petersen(12/16/05

)


0 Days

- Army:

B. Ross(1/29/07) to S. Brock(1/29/07)




0 Days

- Indiana:

T. Hoeppner(6/18/07) to (B. Lynch 6/18/07)




0 Days

- Purdue:

J. Tiller(1/11/08) to (D. Hope 1/11/08

)


1 Days

- South Carolina:

L. Holtz(11/22/04) to (S. Spurrier 11/23/04

)


1 Days

- Navy:

P. Johnson(12/7/07) to K. Niumatalolo 12/8/07)




2 Days

- Idaho:

T. Cable(2/6/06) to D. Erickson(2/8/06)




2 Days

- Louisville:

B. Petrino(1/7/2007) to S. Kragthorpe 1/9/07)
The first thing you notice is that the easiest way to have a quick coaching search is to just promote an assistant. Whether this is pre-announced, as was the case for Wisconsin, Indiana, and Purdue, or just done on the day of the change, as was the case for Oklahoma State, Boise State, Army, and Navy, you can end your search as soon as it begins. Likewise, when the head coach gives you a heads up that he plans to retire, as with South Carolina, you can get his replacement ready to go in short order as well. The last two cases show that a quick search doesn't mean it's a good one, as Dennis Erickson jumped away from Idaho as quickly as he could and Louisville just fired Kragthorpe after only three seasons. Now let's look at the long searches.
37 Days

-

Buffalo:

J. Hofher(11/8/05) to T. Gill(12/15/05)




37 Days

-

Alabama:

M. Shula(11/27/06) to N. Saban(1/3/07)




38 Days

-

San Jose State:

F. Hill(11/22/04) to D. Tomey(12/30/04)




39 Days

-

Washington:

T. Willingham 10/28/2008 S. Sarkisian(12/6/08)




40 Days

-

Florida:

R. Zook(10/25/04) to U. Meyer(12/4/04)




41 Days

-

Washington:

K. Gilbertson(11/1/04) to T. Willingham(12/12/04)




49 Days

-

Clemson:

T. Bowden(10/13/08) to D. Swinney(12/1/08)




57 Days

-

Temple:

B. Wallace(10/10/05) to A. Golden(12/6/05)




70 Days

-

UNLV:

J. Robinson(9/26/04) to M. Sanford(12/5/04)




71 Days

-

SMU:

P. Bennett(10/28/07) to J. Jones(1/7/08)
The obvious thing to note here is that 9 of the 10 schools on this list fired their coach sometime during the regular season. The need to wait for other schools to finish their season so they could hire away a new coach can partly explain the reason why these searches are longer than many others. Only Alabama makes the list after waiting until the end of the regular season to fire their coach and I don't think many 'Bama fans are all that upset with the outcome of their prolonged search. (Also note that Alabama was ready to sign Rich Rodriguez when he decided to stay at WVU on December 8th, 12 days into the search)
With Notre Dame not falling into easy categories of internal promotion or mid-season firing, what's an expected amount of time until the new coach is announced? Thanks to help from Jay, Jeff, and BGS friend Mike S.,
here's the complete listing of every coaching search
from 2004 to 2009, how long it took, and assorted other analytical breakdowns of the numbers. Looking at the end of November dates, the average is actually pretty close to the overall average, with most searches on those days taking around 15 days or so. For the sake of our sanity and our production at work, let's hope this one doesn't stretch on much past that.