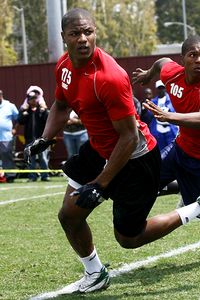 Before the gloom and doom of the weekend, Notre Dame received some fantastic news in the form of new public commit Shaquelle Evans. The 6'1" 205 pound receiver from California announced his college choice during his U.S. Army All-American Bowl selection ceremony. The LA Times has video from the event.

Hailing from Los Angeles, Evans is considered the best WR in the west and was a top target of Southern Cal. He even was reported to commit while visiting the Trojan locker room following their September victory over Ohio State. (That Carroll brought Evans in as a visitor for that big game shows SC's level of interest). But a visit to ND for the Purdue game helped to sway Evans to the Fighting Irish.

"Yeah, on my official visit there, I could tell right away that I belonged at Notre Dame," Evans said. "It just felt like home for me and I always told myself that I wasn't going to commit to a school just because of how good the program was or how close to home it was, it was always going to be where I felt the most comfortable.

"I really bonded well with everyone at Notre Dame, players and coaches. I loved the campus and I like the area as well. Some people were saying there's not much to do there socially but I'm not a big party person anyway so it was just a perfect fit for me."
In addition to Southern Cal, Evans had offers from Oklahoma, Michigan, LSU, UCLA, Colorado, Washington, and many others. The recruiting sites all have Evans as a 4-star Top 100 recruit. On Rivals.com, he is the #54 overall recruit, the #7 WR, and in their position breakdowns, the 5th best deep threat and 3rd best "after the catch" receiver. Scout.com has Evans as the #84 overall player and the 8th best WR. ESPN is the most impressed and has Evans listed as their 21st overall player and #3 wide receiver. ESPN elaborated on the Evans to ND decision.
"Evans was a huge pickup out of California over USC, and Weis is well on his way to building one of the top young receiver corps in the country. Fighting Irish fans have to be excited about the explosive weapon they just landed to align opposite of current standout freshman Michael Floyd; we still expect Deion Walker to emerge as a top-flight receiver in the near future as well."

"Evans is a big-catch and big-play receiver all wrapped up in one explosive package. He can hurt you as a vertical receiver with his great downfield speed, soft hands and exceptional body control coming down with the difficult grab. Or just as easily turn a short slant pass into a big gain with his great initial burst, quickness and acceleration in space. ND is landing a true difference-maker in Evans and a kid who should shine on special teams."
The last bit about special teams is good news as ND has auditioned multiple players lately trying to find an effective and explosive returner. Evans, Cierre Wood, and Theo Riddick all have been tabbed as standout return men meaning the odds are good one of them might be back to receive a kick starting as early as next fall.
As for his receiving skills, here's one of many
youtube highlight clips
featuring Evans. Impressive to say the least. Over the summer Evans attended the same Top Gun camp as Cierre Wood, Zeke Motta, and a number of 5-star wide receiver recruits. Rivals put Evans in their final camp
Hot 11
along with this writeup.
Evans has the body of a player who's ready for college. Lean, trim and muscular, he had little problem battling corners who attempted to be physical with him. He also has long-enough arms to go up and get the football. While he's not a burner, he's plenty fast enough to get open, and his routes were some of the best in the camp. He probably was the most complete receiver in camp.
And it should be pointed out that Brian Polian once again was heavily involved in landing another California stud to Notre Dame. Charlie certainly has been the closer, but Polian has been doing a very good job recruiting the past few years and is frequently mentioned by recruits or their parents in a positive light.
No one can say what the next few years will bring for Notre Dame football, but what we can reasonably say is that ND will have one of its most talented collection of receivers in a very long time. Michael Floyd, Golden Tate, Duval Kamara, Deion Walker, John Goodman, and now Nyshier Oliver and Shaq Evans will spend time at ND together with all the listed receivers having two or more years of eligibility left. The mix and match possibilities with this group certainly are a welcome problem.