First order of business, post-hiatus, is to get out the results of the NFL Draft, complete with rookie mini-camp updates....

John Carlson - 2nd round, 38th overall pick, Seattle Seahawks.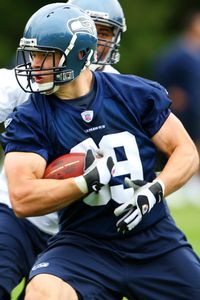 Headed out west, Carlson was the first Domer off the board. From the Seahawks website, there are quotes from Coach Mike Holmgren on drafting the ND tight end.

"John Carlson, to me and to Tim, was the most all around solid guy. He's really a good football player, who can play inside at the tight end position. He's a big man, 6'5", 250 … very good hands, good route runner. We love everything about the intangibles - how he plays the game, how he practices, how he conducts his life. I told Tim this early on, I think that he is one of these guys, Lord willing and everyone stays healthy, that he can come in and be a really good football player for you for a long time."
With a tip of the cap to Rakes of Mallow, here is a
Seahawks blog reaction
to the Carlson draft. From
the sound of the coaches
, Carlson will have every opportunity to start and is even being counted on to make the starting role his. If you click on
"Day One Recap"
, you can catch a quick glimpse of Carlson at the most recent mini-camp. Carlson is the highest drafted Notre Dame tight end since Irv Smith was drafted in the first round in 1993.
Trevor Laws
- 2nd Round, 47th overall pick, Philadelphia Eagles
Very few players saw their stock keep rising like Trevor Laws did. When it was all over, the Eagles took the Irish DT
halfway through the second round
. The Eagles website has draft reaction quotes
from Trevor
and
from Coach Andy Reid
. Thanks again to Rakes, here is
an Eagles blog
take on the pick.
For a different kind of reaction, check out the
Laws family draft day party video
from Trevor's
website
. Laws also spoke with a local newscaster, which
can be seen here
.
There are some videos of Trevor as well with the Eagles. First up is
a walkin' and talkin' interview
that would make Aaron Sorkin proud. Next is a
mini-camp highlight video
that offers a quick look at Laws, along with teammate Victor Abiamiri and a glimpse of Rocky Boiman. The early projections on Laws are that he will work in a DT rotation and provide depth to the Eagles defensive line. There should definitely be situations next season where Victor and Trevor are on the field at the same time once again. Trevor is the highest drafted Notre Dame defensive tackle since Bryant Young was taken in the 1st round in 1994.
Tom Zbikowski
- 3rd round, 86th overall pick, Baltimore Ravens
Zibby was a true wildcard with his projected draft slot being anywhere from the 2nd round to the 7th.
The Ravens took him off the board
in the 3rd round.
Ravens GM Ozzie Newsome
offered his thoughts
on Zibby and a Ravens blog
seemed pleased
with the pick. Zibby's take on being a Raven
was captured by the Chicago Tribune
.
The
South Bend Tribune
included an interesting anecdote about how Zibby might have ended up in Baltimore.
The youngest of the three Zbikowski children will be showing up at Ravens mini-camp soon, where he'll be reunited with former Irish defensive assistant Greg Mattison, the man who recruited him to Notre Dame. Mattison, most recently co-defensive coordinator under Urban Meyer at Florida, was hired as the Ravens linebackers coach by first-year head coach John Harbaugh in mid-February.

"I just talked to coach Mattison on the phone for about 10 minutes, and it was great," said Zbikowski, the third ND player to be selected this weekend -- following tight end John Carlson (Seattle) and defensive tackle Trevor Laws (Philadelphia), both taken in the second round Saturday.

"We've kept in touch since he left Notre Dame. I'm friends with his son (former Penn High standout Bryan). I wouldn't be surprised if he had something to do with me ending up there."
Zibby is the highest Irish DB taken since Brock Williams was also taken with the 86th pick in 2001. If you stick to safeties, Zibby is the highest drafted safety since Bobby Taylor was taken in the 2nd round in 1995. Taylor also played cornerback though, which helped his value.
John Sullivan
- 6th Round, 187th overall pick, Minnesota Vikings
The last Irish player to be drafted, Sullivan
was selected in round six by the Vikings
.
Here is the text of
Sully's conference call
with reporters after being picked and the Vikings official site also has
the reaction
of Head Coach Brad Childress to the Sullivan draft selection. With Pro Bowler Matt Birk manning the center position, Sullivan will have some time to learn the pro game behind a potential Hall of Fame player.
Sully is the highest rated --ok, only -- ND center drafted since first rounder Jeff Faine in 2003.
Travis Thomas
- Free Agent, Cleveland Browns
The Browns called Travis after the 5th round and told him that
if he went undrafted, they wanted to sign him as a free agent
. His best chance at early playing time will be on special teams for the Browns.
J.J. Jansen
- Free Agent, Green Bay Packers
Signed by Green Bay
, Jansen
will fight for the starting long-snapping gig
against Thomas Gafford, a third year player who has yet to long snap in a game.
Joe Brockington
, Free Agent, Buffalo Bills
It was a quick visit to New York for Brockington as the Bills
signed Joe to a free agent contract and then cut him
two days after rookie mini-camp.
All in all, another solid draft year for the Fighting Irish, especially considering the outcome of the 2007 season. Willingham whiffed on his last two recruiting classes, but he (and Charlie and Mr. Ndukwe) should get credit for his first full recruiting class. The Class of 2007 had 22 players sign letters of intent and 8 went on to be drafted in the NFL. If you count Greg Olsen and Jeff Samardzija, that's 10 out of 22; a an extremely impressive success rate.
A quick glimpse ahead to next year's draft offers possibility that only one Irish player will be drafted. David Bruton has the potential to be a first day pick, but after him, things get murky. Terrail Lambert is probably the next best bet and a solid 2008 will probably earn him a draft spot in the mid to later rounds. A year under Tenuta might pay off for Mo Crum. Other than that, I don't see any likely picks barring a junior like Darrin Walls leaving early. Good news I suppose that most of the talent on the 2008 team will be back for 2009. But not good for the fact that ND will have to go one more year without much NFL caliber talent in the 5th year and senior classes.