We love villains. Not long ago, the American Film Institute unveiled its list of the greatest heroes and villains in film, and as noble and saintly as all the goody-two-shoes are, it's the evildoers who really grab our attention. The best villains have their own style, wit, and morbid allure. From the coolly refined (Hans Gruber) to the deranged (Alex in A Clockwork Orange) to the downright terrifying (Hannibal Lecter), it's the bad guy who hatches the plot, kidnaps the girl, plunges the knife and kicks the dog. Villains are crucial, and without them, you don't have a real story.

Notre Dame football has had plenty of dastardly antagonists over the years, from the merely irritating to the crushingly heartbreaking to the thoroughly evil. Some of these knaves eventually got their comeuppance; others still run free, wreaking their havoc. All of them, however, are among the worst of the worst of the Irish blacklist.

And now, without further ado, we give you the Notre Dame Rogues Gallery.


---
Desmond Howard
Every single fall of their college careers, the Michigan class of 1991 lost to Notre Dame. But with one spectacular grab on September 16, 1991, Desmond Howard prevented the Michigan class of 1992 from experiencing the same fate, improving their record against Notre Dame to 1-3. In the fourth quarter, with the game still up for grabs, Michigan went for it on 4th and 1 from the Notre Dame 25-yard-line (needless to say, Lloyd was not their coach at the time). Elvis Grbac appeared to overthrow Howard, but with a completely horizontal lunge Howard grabbed the ball, and the game, just before it hit the ground. The play seems to hold
special meaning
among Michigan fans.
Despite this incredible play, in college, Desmond Howard could best be described as a poor man's Raghib Ismail -- although what he lacked in talent compared to the Rocket he more than made up with
braggadocio
. Thus it was particularly galling when Howard won the Heisman trophy, just one year after Ismail had been passed over for Ty Detmer.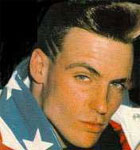 And speaking of Rocket, the most painful television I have ever watched in my life was the College Gameday piece that paired Rocket and Howard. Just thinking about it makes me ill.
Villain Comparsion
: Vanilla Ice
Like Howard, a one-hit-wonder who copied an original but didn't stack up, and in the process gained too much unfair recognition. Word to your mother.
---
John McKay
Quite possibly the best coach Notre Dame ever faced (excluding this guy at Northwestern a long time ago). While Duffy Daugherty edges McKay for most wins against Notre Dame, Daugherty did not deliver any blows as devastating as the 1964 or 1974 losses to Southern Cal. In 1964, Southern Cal pulled out a last-minute victory over the undefeated Irish when a Notre Dame victory would have secured Ara a national championship in his first season. As we'll be forced to address the 1974 game later, we'll spare ourselves the burden of mentioning it here.
He's the kind of guy who'd school you on the basketball court, then pat you on the back and give you a word of encouragement. I hated those guys. Always respectful of Notre Dame, but never awed, McKay always seemed to bring out the best in his team against the Irish. As he said in "McKay, a Coach's Story":
I've said it a hundred times and I'll say it again. There's no greater thrill in football than playing in South Bend. I get keyed up and ready to play myself, but thank God that won't happen. I always hope my kids are as keyed up as I am... Pick any year. The Irish will be as good or better than any team we play. I tell our kids if you don't get up for Notre Dame, you must be dead.
You almost didn't mind losing to McKay. Almost.
Villain Comparison
: Robert E. Lee, Confederate Army
As with Lee, McKay is a villain because he made the unforgivable mistake of casting his lot with the bad guys. Both were some of the best at what they did and both conducted themselves with class, but you just can't get past their allegiance.
(Feldmarshall
Erwin Rommel might also make a good doppelgänger for McKay.)
---
Jimmy Johnson
The anti-McKay. Jimmah, also known affectionately as the "Pig-Faced Satan", first faced off against Notre Dame in Gerry Faust's final game. With Faust on his way out, Pig-Faced Satan seized the opportunity to run up the score 58-7, and handed Notre Dame its fourth-worst loss in school history and the worst loss since a stacked Army team trounced a World War II-depleted Irish team in 1944.
During this and the ensuing years, Pig-Faced Satan did his damnedest to cultivate the renegade image of his program: clothing his team in camouflage instead of coats and ties for travelling, encouraging pre-game fights in the tunnel, and giving carte blanche to knuckleheads like Michael Irvin to run his mouth both on and off the field.
These factors served to fuel the incredibly heated Catholics vs. Convicts rivalry of the late Eighties. Emotions ran so high that savvy Irish fans knew to "beat the rush -- hate Miami now", as a popular bumper sticker put it. The night before the game in 1988, Jimmah was burned in effigy at Stonehenge. Even Holtz dialed it way up; in the locker room before the game he told his players to "save Jimmy Johnson's ass for me!"
The smug grin. The freeze-dried hair. The beady little eyes. So much to dislike. And he never learned to
clap
properly either.
Villain Comparison
: Hoggish Greedly,
Captain Planet
The resemblance is uncanny.
---
Michigan Coaches, the Early Days:
Fielding Yost & Fritz Crisler
Yost (left) and Crisler (right) were at the forefront of Big Ten efforts to
smother Notre Dame football in the cradle
. Not content merely to
exclude Notre Dame
from their conference, they worked to convince other schools from scheduling out-of-conference games against Notre Dame.
In seeking to explain the depths of Yost and Crisler's animus towards Notre Dame, many historians point to a general anti-Catholic sentiment. Given Crisler's nativist leanings, this possibility should not be ruled out. However, the explanation might be far simpler. Yost and Crisler were overshadowed in their eras by Rockne and Leahy respectively. The simple explanation? They were jealous, and afraid of Notre Dame.
In 1909, Yost was enjoying his popularity as coach of the "Point a Minute" Wolverines and destroying opponents left and right, until Notre Dame deflated his Wolverine juggernaut, 11-3. It was ND's first victory over the mighty Wolverines and, at the time, was a huge David vs. Goliath victory.
To further infuriate Yost, Walter Camp was in attendance and told anyone who would listen that ND's running game was the best he'd ever seen. Yost was so embarassed and enraged he would ultimately refuse to play Notre Dame again. ND was scheduled to play in Ann Arbor in 1910, but Yost waited until the night before the game to cancel it, claiming ND was using ineligible players. Once Rockne started winning, Yost's hatred towards ND was cemented.
Maize: a more cowardly shade of yellow.
Villain Comparison
: Ian Paisley, Member, European Parliament
These brave souls have done their part to save the world from Papery.
---
Anthony Davis
You would think that when someone scores eleven touchdowns over his career against your team, the stats would speak for themselves. Yet when it comes to Anthony Davis and Notre Dame, they don't. In 1972, Davis ran for an astonishing six touchdowns against the Irish...but it was the 1974 game that most people remember.
No one has had a game against Notre Dame like Anthony Davis did in 1974. With Notre Dame ahead 24-0 late in the second quarter, Davis scored a touchdown to put Southern Cal on the board. Nonetheless, Notre Dame had a 18-point lead at halftime and a win seemed certain. But Davis returned the opening kickoff of the second half 100 yards for a touchdown and the rout was on. Final score: Southern Cal 55, Notre Dame 24. If you have a high threshold for pain, you can read more in this
article
. At least you get to read about Davis being burned in effigy.
For many Irish fans, the most memorable and galling part of the 1974 game was Davis dancing on his knees in the endzone. Was this the inspiration for the elaborate voguing the Hurricanes would do a decade later?
Villain Comparison
: Damien,
The Omen
Anyone that's heard Davis tell the following story – and he tells it every chance he gets – understands why.
After the game, Davis, who was the last to leave the Coliseum - bruised and battered - encountered firsthand just how much Notre Dame fans hated him.

"I come outside and I notice these people in dark clothes, and this woman comes out of the shadows and has a crucifix and she says, 'No one does that against Notre Dame. You must be the devil,'" Davis said.


---
AP Voters, various years
Older Irish fans can point to the AP voters giving Maryland the national championship over a better Notre Dame team in 1953, but everyone knows the shifting logic employed by the AP voters between 1989 and 1993.
In 1989, Notre Dame finished 12-1 and second in the poll to 11-1 Miami. That year, Notre Dame played the toughest schedule in the nation, notching wins against Colorado (Big Eight champ, final rank – 4), Michigan (Big Ten champ, final rank – 7), Southern Cal (PAC-10 champ, final rank – 8), and UVa (ACC champ, final rank – 18). In other words, Notre Dame knocked off virtually all of what would constitute today's BCS. The Irish also defeated Penn State (final rank – 15), Michigan State (final rank – 16), and Pittsburgh (final rank – 17). Three wins against Top 10 teams, and seven wins against Top 20 teams.
However, Notre Dame lost the head-to-head match-up with Miami, and Miami was crowned champion. Most Notre Dame fans could accept this result. After all, Miami had defeated Notre Dame. And if Notre Dame's accomplishments in 1989 were insufficient to overcome such a head-to-head loss, surely the head-to-head precedent had been set.
We all know what happened in 1993: FSU & ND finished with the same record, but ND had beaten the Seminoles. Following the precedent, the Irish are national champs -- case closed, right? Yet
AP voters disregarded the head-to-head result and awarded the national championship to Florida State. Unbelievable.
Even ESPN
marvelled
at the result.
Villain Comparison
: denizens of Bolgia Six,
The Divine Comedy
, Dante Alighieri
Enjoy your leaden robes, gentlemen.
---
Bo, you realize you're about to finish up your
career with three straight losses to me, right?
Michigan Coaches, modern era:


Bo Schembechler
(4-6)
Gary Moeller
(2-2-1)
Lloyd Carr
(3-3)
It's not hard to figure out why the Michigan coaches of the modern era can't stand Notre Dame. The numbers in parentheses following the coaches' names are their records against the Irish, and what do you notice? Not a winning record among them. According to a
recent post
on a Michigan blog, more of Michigan's losses since 1988 have come against Notre Dame than any other team. (It's worth noting that during this period, Ohio State and Michigan State have each played Michigan four more times than Notre Dame has.)
Nonetheless, do these losses really excuse the pettiness displayed by the trifling trio? Let's review.
Schembechler
. Schembechler has never attempted to hide his smallness vis-à-vis Notre Dame. Recall
these words
:
Q: Would Notre Dame be a strong addition for the conference?

A: Why? What would they contribute than any other 12th team can't contribute?

Q: The name, the tradition, the Notre Dame history, perhaps?

A: They may find out what (Penn State Coach) Joe Paterno found out, which is, it was a lot easier when they were playing Syracuse and Rutgers and Temple. When they went into the Big Ten, they found out they couldn't go to the Rose Bowl every year.
Yes, our schedule would be quite a bit tougher if we replaced Southern Cal with Indiana, or teams like Tennessee and Florida State (to name a couple of recent opponents) with Northwestern and Illinois.
And yes, it's all about the Rose Bowl, right Bo? In fairness to Schembechler, he did lead his last two Michigan squads to the Rose Bowl. Both years, Michigan faced Southern Cal. Of course, the combined record of Michigan and Southern Cal against Notre Dame in those two years was 0-4. What a sweet bowl. I don't see how anyone could disagree with Schembechler's assertion that winning that game is more important than winning a national championship.

Moeller
.
Reports have circulated that Moeller completely omitted Notre Dame from his final Coaches Poll ballot in 1993. As a
wise man
once said, "looks to me like a Big Ten suckhole."
Carr
. When Michigan traded in
Three-Tie Moeller
for Three-Loss Lloyd, Notre Dame frequently found itself the target of Lloyd's incessant whining. The most notable such occurrence was Lloyd's outrage at Notre Dame's participation in the Eddie Robinson Classic in 1999, alleging a violation of a "gentlemen's agreement." Although it was obvious Lloyd was lying (due to the fact that it would be metaphysically impossible for Lloyd to enter into a gentlemen's agreement), the record was finally set straight by former
Michigan Athletic Director Don Canham, who denied any such agreement ever existed. It also bears mentioning that Canham, a true man of principle, was the AD who finally ended Michigan's boycott of Notre Dame and, along with Moose Krause, got the series going again.
Villain Comparison
: Zod, Non, and Ursa, the intergalactic exiles of Superman II. Jealous of Superman's power on Earth, these three tried like hell to bump him off but came up short. Obviously Bo is Zod, and Moeller's the big oafy guy.
Lloyd
is the one with the
boobs
.
---
Randall "Thrill" Hill
It's actually possible to pinpoint the exact play where Notre Dame's 23-game winning streak was snapped.
During the third quarter of the 1989 game against Miami, the Hurricanes found themselves backed up to their seven yard line and facing 3rd and 43. The tide seemed to be turning in Notre Dame's favor, and it looked like the top-ranked Irish would prevail after all.
Then Craig Erickson connected with the ever-preening Hill for a 44 yard gain, and, for the first time in two years, the Irish spirit seemed to have been broken. Miami would ultimately score a touchdown on the drive, but only after burning 10:47 off the clock.
Hill epitomized the cocky, dickish attitude of Jimmah's teams. At one point he actually legally changed his middle name to "Thrill".
Villain Comparison
: the rat-like creature from
Return of the Jedi
. He's just like "Thrill" -- a smug, cackling little pest sitting at the feet of Jimmah the Hutt, whose only claim to fame is plucking out the eye of C-3PO. Or catching one 44-yard pass.
---
[The Ref Who Threw The Clipping Flag in the Orange Bowl]
With 65 seconds left in the Jan. 1, 1991 Orange Bowl, No.1 ranked Colorado was clinging to a one point lead over Notre Dame. Following two sacks that had prevented CU from running out the clock, Colorado punter Tom Rouen stepped on to the field.
Inexplicably, Rouen did not kick the ball out of bounds, and Rocket Ismail fielded the ball at the nine. Then what appeared to be
the most exciting play in bowl history
unfolded.
Ismail was nearly smothered by a pack of Buffalo jerseys, then somehow broke free. Ninety-one yards later, Rocket was kneeling in the Colorado endzone and Colorado's national title hopes appeared to have been dashed. Irish fans went nuts.
But wait. [Unnamed Orange Bowl Dunderhead] threw a flag, a clipping penalty on the return, and Rocket's fabulous run was called back. It was -- well, I don't know how to put this delicately. It was bullshit. Even
Collegefootballnews
noted that "[a]fter various replays, the clip was questionable at very best."
Villain Comparison
: Don Denkinger, Rich Garcia, and Neville Chamberlain, MLB umpires and British Prime Minister. Like [Unnamed Orange Bowl Jackass], Denkinger, Garcia and Chamberlain made ill-timed, boneheaded, and ultimately
wrong
calls when championships were on the line.
During the 1996 ALCS, Derek Jeter hit what should have been a deep fly ball to Orioles right fielder Tony Tarasco. However, fan Jeffrey Maier reached out and grabbed the ball, a clear instance of fan interference. Garcia apparently got caught daydreaming in the outfield and missed Maier's grab, because he did not call interference. Jeter was given the game-tying home run and the Yankees would proceed to win the game in extra innings.
Neville Chamberlain signed the Munich Agreement with Adolf Hitler in 1938 which effectively allowed Germany to annex the Sudentenland, leaving Czechoslovakia vulnerable, one of the inciting acts of World War II.
And in maybe the most dire example of the three, in the ninth inning of Game Six of the 1985 World Series, Denkinger ruled the Royals' Jorge Orta safe at first when Todd Worrell had clearly beaten Orta to the base. The Royals then proceeded to pull out a two-run rally and force a game seven, which the Royals would proceed to win (to
Joaquin Andujar
's crushing dismay).
---
Don Yaeger and Douglas S. Looney
During Lou Holtz's reign at Notre Dame, Yaeger and Looney approached Holtz with the idea of following him for a year and producing a traditional "
year
in
the
life
" puff piece. Holtz rebuffed their advances, and Yaeger and Looney proceeded to go batshit. The result was
Under the Tarnished Dome: How Notre Dame Betrayed Its Ideals for Football Glory
.
On the journalistic accuracy scale,
Tarnished Dome
falls somewhere between "
Dewey Defeats Truman!
" and a Jayson Blair story. Yaeger and Looney's hatchet job was thoroughly exposed in an excellent
Forbes Media Critic article
by Paul Sheehan that is well worth reading in its entirety.
However, far more attention was given to Yaeger and Looney's unsubstantiated allegations than the substantiated rebuttals. Released before the 1993 season, the book did prove to be a rallying point for that year's team. Following the win at Michigan, many of the players dedicated the win to Holtz.
Villain Comparsion
: Alex (Glenn Close),
Fatal Attraction.
Hell hath no fury like a sociopath scorned.
---
Keith Jackson
"Whoa Nellie, I'm a jackass!" Doddering Keith Jackson combines a complete lack of any sports announcing ability whatsoever with an intense dislike for Notre Dame. While both of these traits have been on display many times both individually and collectively, these two combined in truly epic fashion during his call of the 1988 final regular season game between #1 Notre Dame and #2 Southern Cal at the Coliseum.
To wit, on Tony Rice's bomb to Rocket Ismail from the endzone,
Jackson insisted that Rice had stepped out of the endzone, and thus a safety should have been called. In actuality, Rice had merely stepped off of the USC logo
within
the endzone. Jackson never corrected himself. He then proceeded to completely miss Stan Smagala's interception, announcing that Rodney Peete's pass had fallen incomplete while Smagala raced to the endzone.
Villain Comparison
: Mustafa,
Austin Powers
Like Mustafa, Jackson just won't go away. Jackson announced he was retiring at the end of the 1998 season, but somehow we're still being subjected to this overweening windbag. Please, Keith, once and for all: just go away. Don't make us break out the ill-tempered sea bass.
---
The Ku Klux Klan
Fans of Generic State U often have difficulty understanding the passion subway alums have towards Notre Dame.
("Why do these people who never went to the school - many of whom have never even

been

to the school - love Notre Dame so much?")
For many, love of Notre Dame has been passed down through the generations. Notre Dame's wild success during the 1920s, an era of rampant anti-Catholicism, assumed incredible importance to the Catholics who would become "subway alums." An excellent account of one family's story can be read
here
.
Perhaps no event better symbolizes the struggle of Notre Dame and American Catholics during the early 20th century than the rumble in the streets of South Bend that took place on May 17, 1924, as chronicled in Todd Tucker's
Notre Dame vs. the Klan
. When Klan members arrived in South Bend via the South Shore railroad for a massive rally, ND students confronted them. Two days of ferocious rioting ensued, rioting that only subsided when the heavens unleashed a torrential downpour.
Additional recommended reading: Robert Burns,
Being Catholic, Being American: The Notre Dame Story, 1842-1934
.
Villain Comparison
: None needed. While other parts of this post are facetious, the Klan are truly, objectively villainous.
---
Assorted Also-Rans, Boston College
In 1993, Boston College notched the second greatest moment in BC football history when a questionable personal foul allowed Boston College to get close enough for David Gordon to kick a career-long field goal and defeat Notre Dame 41-39.
Unfortunately for BC, following this game they immediately disappeared from the collective consciousness of the college football world, just as they had in the time between Flutie's pass against Miami and Gordon's kick against the Irish. In a desperate attempt to sustain relevance, BC adopted the C-list celeb's belief that any attention is better than no attention at all.
Thus BC has engaged in a series of classless acts reminiscent of a neglected child's cries for acknowledgment. To wit, tearing up the field at Notre Dame Stadium, vandalizing the visitors' locker room at Notre Dame Stadium, making absurd comparisons between Boston College on the one hand and Notre Dame and Cornell on the other in a Newsweek special, publicly avowing themselves to be Miami's bitch, and on and on.
Villain Comparison
: Fredo Corleone,
The Godfather II
I can handle things! I'm smart! Not like everybody says...like dumb...I'm smart and I want respect!
---
Southern Cal's Band
"Thiiiiiis is the only song we knoooooow. It's boring and it's slooooooow." What's not to like about being subjected to the same handful of bars for four consecutive hours? Everything.
Touchdown? Cue the song. First down? Cue the song. The quarterback tied his shoe? Cue the song. Just finished playing the song? Cue the song. You get the idea.
In classic Notre Dame magnanimity, we are willing to offer Southern Cal a compromise that is more than fair. The next time Southern Cal comes to Notre Dame, we are willing to double the space available to the SC band in the stadium, provided that all band members are replaced with
Song Girls
.
Note that the Stanford Band has aspired to the throne of the most-annoying band,
producing a halftime show mocking, among other things, Catholics, the Pope, and the Irish potato famine. However, the ensuing ban from Notre Dame's campus has prevented the Stanford band from developing the body of work necessary to be a true villain. Plus, they just try too hard to be taken seriously. "Hey, we're not dorks, we're edgy and provocative." Sure you are,
Butters
.
Villain Comparison
: Los Del Rio. One crappy song. Over and over and over and over and over. Aye-yah.
---
Whom did we miss? Please add your additional villain(s) in the comments, as someday we might get around to a Rogues Gallery
par deux
.